Home > the cezanne sites > atelier de cezanne
It is here, on the Lauves' hill amid his dearest familiar objects: the models of his ultimate still lifes, his furniture and work equipment that you will feel the most intensely the full presence of the painter.
From 1902 to his death in 1906, Cézanne works daily in this bright studio, the birthplace of dozens of works now preserved in the great museums of the world, among them the last Bathers.
The studio has a gift shop, regularly hosts temporary exhibitions and organizes cultural and gastronomic gatherings during the season. Coffee break and refreshments on site.
---
The land of Painters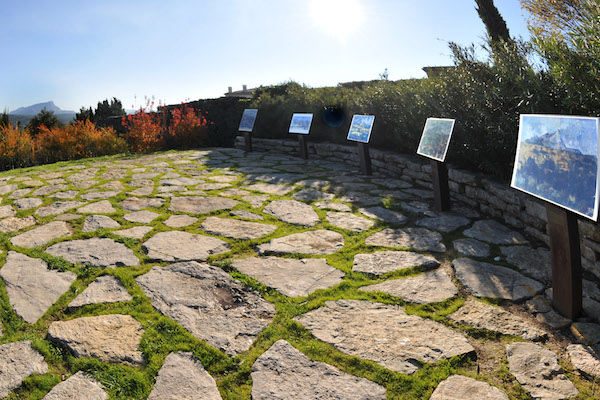 Queen of his childhood landscapes, obsession of his artistic life, the Sainte-Victoire Mountain dominates the master's work: 44 oils and 43 watercolors preserved in museums around the world and in private collections. The most famous paintings have been painted from this wonderful panorama, located on the chemin de la Marguerite (Margaret way) on the Lauves' hill.
Near by the studio, the city of Aix-en-Provence has converted it into the Land of Painters: facing the mountain, new reproductions on lava of the best Cézanne's "Sainte-Victoire" inviting contemplation …
To access it (see on google maps):
Take the path Marguerite, it is a16 minutes' walk north of the Cezanne Studio.
Mount avenue Paul Cezanne, beyond the roundabout of the Cezanne's gate, turn left to the stairs leading to the land of Painters (private residence, thank you to respect the tranquility of the residents).
Bus parking through Filippi avenue: respect the slot before entering the residence.
> Download the flyer "The land of painters" 
---
Contact
T. +33 (0)4 42 21 06 53
> send an email
Atelier de Cezanne
9, avenue Paul Cézanne
13090 Aix-en-Provence