home > prepare your visit > individual > visit the atelier de cezanne
---
> Opening hours
> Individual prices
> Advantage pass
> Tickets
> Getting there
---
OPENING HOURS
The atelier de Cezanne is closed from 1st to 10th January 2022
11th January to 4 April
Opened Tuesday to Saturday
9.30 am to 12.30 am and 2 pm to 5 pm
Closed on Sundays and Mondays
5th April to 31st May
Opened every day
9.30 am to 12.30 am and 2 pm to 6 pm
Closed on 1st May
1st June to 30th September
Opened every day
9.30 am to 6 pm
1st October to 31st December
Opened Tuesday to Saturday
9.30 am to 12.30 am and 2 pm to 5 pm
Closed on Sundays, Mondays and 25th December
---
VISITING TERMS AND CONDITIONS
20 people maximum in time slot
Reservations to be made online or at the Tourist Office in town (No reservation by phone)
Prior reservations requested, limited availabilities.
Last entry 30 minutes before closing
Access to the garden and the shed is free
Pets not allowed
---
INDIVIDUAL PRICES
INDEPENDENT VISIT
Tour takes around 30mins
Full price: €6,50
Reduced price (13-25s): €3,50
Free with the Aix-en-Provence City Pass, under 13s, jobseekers, disabled people, journalists, ICOM and tour guides (upon presentation of the relevant card)
To enrich your visit, you can now rent the audio guide. The 2 minutes commentary traces the history of the place, the day to day artist's life in it and how influential his art had been on successive art movements.
This audio guide is available on site in ten languages : French, English, Japanese, Chinese, Spanish, German, Italian, Portuguese, Dutch, and Russian.
GUIDED TOUR
In French – all year at 11.30 am – 1st June to 30th September at 11.30 am and 2 pm
In English – all year at 3.30 pm – 1st June to 30th September at 10 am and 3.30 pm
Tour takes around 30mins
Full price: €9,50
Reduced price (13-25s): €6,50
Free with the Aix-en-Provence City Pass, under 13s, jobseekers, disabled people, journalists, ICOM and tour guides (upon presentation of the relevant card)
---
DISCOVERING THE PLACES OF CEZANNE: BIBÉMUS QUARRIES AND THE CEZANNE'S STUDIO
The visit of the Cezanne's studio is included in a guided tour by convertible minibus, departing from the Aix-en-Provence Tourist Office. From 1st April to 31st  October.
This circuit, including transport, allows you in the morning to visit 2 emblematic sites of the painter.
---
ADVANTAGE PASS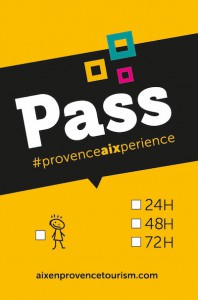 This site is included in the Aix-en-Provence City Pass.
Proposed by the Aix-en-Provence Tourist Office, this tourist city pass is a concentrate of Provence a lower price. It allows you to have access to several activities and sites for free and benefit from exclusive offers and deals from selected partners – more information
Possibility to buy it directly at the atelier de Cezanne.
---
TICKETS
Prior reservations requested – No reservation by phone
On line: booking.aixenprovencetourism.com
On site at the atelier de Cezanne (subject to availability)
On site at the Aix-en-Provence Tourist Office, 300 avenue Giuseppe Verdi 13100 Aix-en-Provence
---
GETTING THERE
City Bus – T. 
+33 (0)9 70 80 90 13 / www.aixenbus.fr

n°5, "Cezanne" stop
n°12, "Auriol" stop

Car: Pasteur parking is advised
Tourist coaches: marked spots on avenue Raymond Poincaré (GPS 43°32'22 N – 5°26'47 E)